Leader's Biography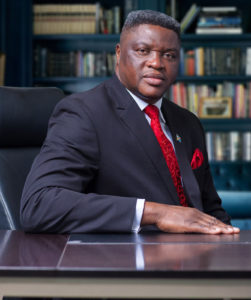 Tshibangu Mukumbay PhD

Place of Birth:- Kinshasa, Congo DR
Nationality of Origin: Congolese
Present Nationality: Congolese
Marital Status:- Married
Number of Children: 5 Children
E D U C A T I O N :
Ecole Primaire Catholique de Livulu/ Congo DR
1972 – 1978: Primary School
C.O.Catholique de Livulu/ Congo DR
1978 – 1980: Secondary School
Institut Pedagogique de Lemfu 1/ Congo DR
1980 – 1986: A Levels in Science, Mathematics, French, English and Psychology
University of Kinshasa/ Congo DR
1986 – 1987: Economics
University of Cote d'Ivoire/ Ivory Coast
1989 – 1991: Sociology
Institut Biblique et Theologique d'Orvin/ Switzerland
1992 – 1995: Diploma in Theology
University of London, Birkbeck College, London/ UK
1996 – 1997: Certificate & Diploma in Theology to complete BA honors degree
United Graduate College and Seminary International, Richmond, Virginia / USA
2015: Honoris Causa Doctorate of Philosophy in Humanities
Trinity Theological Seminary of South Florida, Fort Lauderdale, Florida / USA
2016: Honorary Doctoral in Christian Education (Ph.D.)
Harvard University, Massachusetts / USA
2020: Verified Certificate of Achievement – HarvardX Online Learning Initiative
Course: PH557x – Lessons From Ebola – Preventing the Next Pandemic
Director: Ashish Jha – Harvard Global Health Institute
Harvard University, Massachusetts / USA

Nov 2020: Verified Certificate of Achievement – HarvardX Online Learning Initiative 

Course: PH 558x – Humanitarian Response to Conflict and Disaster.

Director: Professor Michael VanRooyen 

Associate Professor: Jennifer Leaning
Fluent in French, English, Lingala, Tshiluba and Swahili
AWARDS:
I Change Nations, National Statesmen Award and Medallion Winner 2016
I Change Nations, Champion Leadership Award 2016
I Change Nations, Courageous Leadership Award 2016
L.O.V.E. International, Global Humanitarian Award 2016
Youth Add Value, S.E.A.L Award 2016
BEFFTA 2016, Outstanding Leadership Award for his New Leadership Style among New Generation of African arising Leaders in Diaspora.
Letter of Tribute from Florida State/USA
Ambassador Dr Mukumbay was presented with a Letter of Tribute by Bobby Powell Jr, Florida State, House of Representatives District 88 recognizing his valuable contribution in developing the leadership skills to respond to the need of his nation and the humanity.
E X P E R I E N C E :
Primary School Teacher | [Groupe Scolaire Rev. Mpoy, Kinshasa, Congo DR]
Sep' 1987 – Jul' 1989:
Primary education. 6-7 yrs age group, class size 25-30
Home Tutor | [Ivory Coast]
Sep' 1989 – Jun' 1992:
Primary School
Assistant Pastor | Evangelical Revival Church, Fribourg, Switzerland
Sept' 1992 – Jun' 1995:
Ministering and Evangelizing
Senior Representative | Fraternité Nationale des Prisons du Congo (NGO), London, UK
Jun' 1995 – Jun' 1998:
Visiting Congolese Prisoners in the UK
Managing Director | Matshi International Ltd, London/UK
Aug' 1998 – Nov' 1999:
Importer and Exporter of Continental Food
Preacher and Seminerian | Missions Office
Nov' 1999 – Jun' 2001:
Ministering and Evangelizing [Mission trips to USA, Belgium, Malta, Switzerland, France and Congo DR]
Director – Contracts and Services | Ressource Afrique Ltd, London, UK
Jul' 2001– Nov' 2004:
Execution of company policies in Congo DR, Zambia and Ghana. Trading in High temperature ores (Copper, Cobalt, Coltan, etc). Sourcing heavy industrial equipments and organizing shipping and delivery to Congo DR, Zambia and Ghana Assessing trade requirements, negotiating contracts and implementing trade links with business partners and government officials.
Independent Business Consultant |Operating from London, UK
From 2004 – Present:
Bringing investors and opportunities in Africa together. Helping create a team of governmental officials to bring to life dormant projects and creating necessary contact with investors. Organizing international investors to visit project locations in the Congo DR (South Kivu, Kinshasa, Maniema and Mpweto in Katanga) Negotiating with private investors to tackle projects in mining, road construction, Environmental Impact assessment and instigating project to effect the most convicting burden – 'Building and Promoting the Land and the people of Africa'.
Founder and Leader of UPA
From 2009 – Present:
Union du Peuple d'Avenir "UPA" with a vision to Build and Promote the Land of DR Congo.
Ambassador of Peace
From 2015-Present:
The Golden Rule International is an established World Peace Policy backed by the United Nations in New York and the African Union. The Golden Rule International is recognized in over 120 countries and continues to grow as other Nations participate in Human Rights Development and Peace. The Golden Rule International is affiliated with the Interfaith Peace-Building Initiative Organization at the Department of Public Information of the United Nations and African Union and is a member of the United Religious Initiative with special Consultative Status with the Economic and Social Council of the United Nations.
Kentucky Colonel
From December 2016-Present:
The Honorable Dr. Tshibangu Mukumbay is officially commissioned as a Kentucky Colonel by the Governor and the Secretary of State of the Commonwealth of Kentucky-USA, the highest honorific title in recognition of promoting economic and social ties between The Democratic Republic of Congo and the State of Kentucky for mutual benefit.
World Civility Ambassador
From March 2019-Present:
Dr Tshibangu Mukumbay was appointed as a World Civility Ambassador at The Africa Great Lakes region Conference that was held at the House of Lords, British Parliament in United Kingdom; in support of civil discourse throughout the nation building process for Justice and Peace through civil dialog.
Ambassador for Peace
From April 2019-Present:
Dr Tshibangu Mukumbay was acknowledged as an Ambassador for Peace by Universal Peace Federation International, a Global Network for Peace builders for promoting and pursuing peace, security and stability in the Great lakes region. Universal Peace Federation is an NGO in General Consultative Status with the Economic and Social Council of the United Nations We support and promote the work of the United Nations and the achievement of the Sustainable Development Goals.
POLITICAL ACHIEVEMENTS:
Since the inception of the UPA, Dr Mukumbay and his executive team have been very active in preparation for the leadership by traveling to different countries and visiting companies, industries, factories and manufacturers to acquire experience in various governmental sectors so that they can implement the UPA's vision of "Build and Promote the Land". Part of the process of preparation is meeting with political leaders, businessmen, Journalists, religious leaders, Human rights activists, nation builders and many more.
Click Here For Comprehensive List
Interests & Skills
A visionary with insight, dynamic coach and mentor. A progressive advocator of fairness, equality and eradication of human suffering. Reading, Political debater, good communicator, natural skill for Diplomacy and a good negotiator in business and conflict resolution. Love football and karate. Like to take risk, challenge, traveling and reaching the forgotten ones such as the pygmies in DR Congo. Team leader.
Tshibangu Mukumbay PhD