Dr. Tshibangu Mukumbay honored in Washington DC by ICN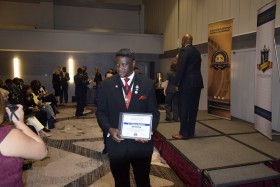 The United People with One Destiny (UPA) delegation led by Ambassador Dr. Tshibangu Mukumbay traveled to Washington DC for the I Change Nations annual awards conference at the Washington Court Hotel, Capitol Hill. Dr. Mukumbay was recognized with 5 awards from 3 different organizations including:
the Youth Add Value, S.E.A.L award.
the L.O.V.E. International, Global Humanitarian Award
the I.C.N., Champion Leadership Award
the I.C.N., Courageous Leadership Award
The I.C.N., National Statesmen Award and Medallion Winner.
The National Statesmen Award was given to acknowledge exemplary work within the nation building process. For wisdom and ability to direct important public issues regarding humanity and to acknowledge Dr. Mukumbay as a national statesman within his country (the Democratic Republic of Congo) and a global influencer.
The UPA is honored to have their leader recognized for the continuing work they are doing on behalf of the people of the Democratic Republic of Congo. The UPA leadership believes as Martin Luther King said " Our lives begin and end the moment we become silent about things that matter."